You may have read my post about the poor customer service experience and product issues that I experienced with SoFi last week.
This afternoon, without any warning, I received am email from SoFi with the subject line "Welcome to your SoFi Checking and Savings Accounts!". Somehow, I was in.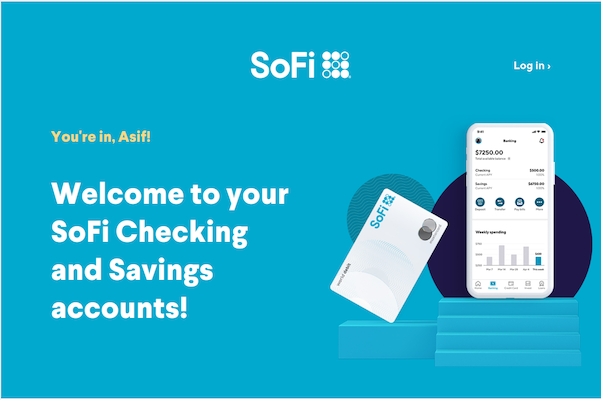 I'm still confused about what exactly ended up happening, since it seems that SoFi managed to follow up to resolve the issues that I had with their product. While their support representative had indicated that they had opened an internal ticket, they were insistent that I would receive no further updates, even if the issue were ultimately resolved.
Previously, I received an email from William Robinson, and I let him know that I had posted about my experience. I did not receive any further communication from him after that.
I had also linked my post on LinkedIn and even tagged Eugenia Gibbons (GM for Consumer Banking, SoFi Money & Credit Card) in the hopes that the company would take a look, but I didn't get a response on that front either.
It seems that SoFi followed up but didn't communicate (other than an automated email) once they resolved the issue.
That's great - it really is. I had feared that the issue might be resolved, but that I wouldn't know that it had been fixed, and they would have lost me as a customer. Instead, while I was frustrated by the lack of communication, they managed to follow through with a resolution, and automated processes kicked in to alert me at the last mile.
I do wonder if the issue would have been fixed if I hadn't followed up by speaking to someone. The refrain I heard from the representatives was that they could do nothing and that I should reapply.
Indeed, one of the people that replied to my post had a similar experience - saying:
I had this same problem when I tried to open an account. The super unhelpful response I got from support was 'try again in a month'. Even if I can get approved at some point in the future I don't know if I trust my money with a company that is incapable of finding a workaround for something so simple. I have (or have had) accounts with 15+ other banks/brokerages and never had such a stupid problem.
I'm not going to go quite that far. For one thing, the issue was resolved within a week. That is pretty fast, even if the communication could have been better. Beyond that, the account is FDIC insured, like other bank accounts - so I don't have any real fear that my money is at risk.
Another person had responded that the rejection could have been for any number of reasons - anti-money laundering, fraud, etc.
I hadn't mentioned it in the prior post because I didn't know where to fit it - but I had opened an account at Bread Savings just a few days prior to my application to SoFi. I didn't run into any issues at all – I didn't even need to reach out to support.
In the end, I'm glad it worked out, and I look forward to using the new account.
Now, to let William know that my issue is resolved…
---
Feel free to give me feedback on this post on reddit.